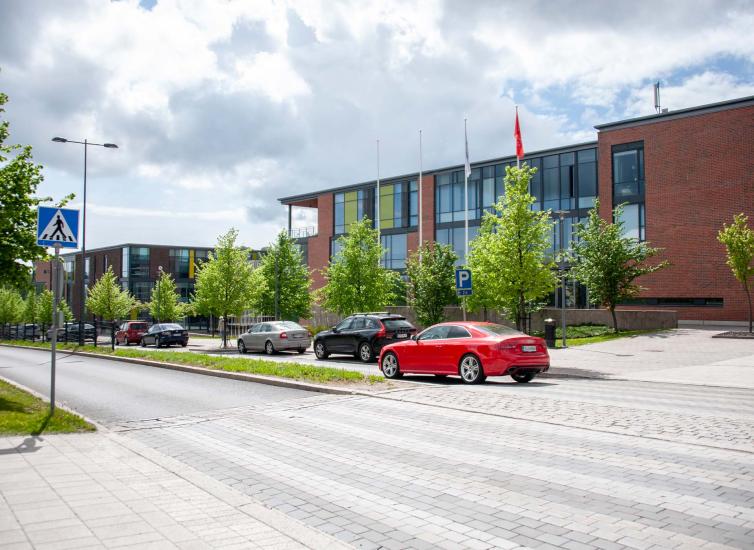 Service counseling and guidance related to studying
Service counseling and guidance related to studying
InfoOmnia and customer service serve all Omnia's students and those interested in studying at Omnia.
Contact information
Visiting address:
Kirkkokatu 16 A, 02770 Espoo
Postal address:
P.O. Box 77711, 02070 CITY OF ESPOO
Visiting address:
Kirkkokatu 16 B, 02770 Espoo
Postal address:
P.O. Box 77710, 02070 CITY OF ESPOO
Premises coordinator
In case of qustions related to the premises, contact the premises coordinator.
Campus services
InfoOmnia also serves at the Kirkkokatu campus. Below you can see the other services of the campus.
Contact information of campus services
Space reservations
Inquiries and space reservations for Kirkkokatu premises at kokoukset@omnia.fi.
Description of the campus
The Kirkkokatu campus was constructed in 2007 and 2011. At Kirkkokatu, you can study, among other things, upper secondary vocational qualifications, vocational qualifications and specialist vocational qualifications, and complete different types of continuing education and training. Campus also has Omnia Skills Centre for immigrants.
We also offer services to customers at Kirkkokatu. You can shop at the sustainable OmniaShop, treat yourself to hair and beauty services at Aurinkokivi or eat local and organic food at restaurant Henricus.
For students, Kirkkokatu offers a wide range of learning environments and conference rooms. In addition, the campus has service points, such as InfoOmnia, a library, student welfare services and an outdoor gym.
Teaching and training at the campus

Further Vocational Qualification in First-Level Management
Specialist Vocational Qualification in Leadership and Business Management
Vocational Qualification in Business
Vocational Qualification in Media and Visual Expression
Vocational Qualification in Cleaning and Property Services
Vocational Qualification in Horticulture
Vocational Qualification in Construction
Vocational Qualification in Arts and Crafts (wood, metal) ​
​Vocational Qualification in the Textiles and Fashion Industry
Vocational Qualification in Information and Communications Technology
Adult Education Centre's language, theater, home and gardening and crafts courses
Further vocational Qualification in entrepreneurship
Getting there
The Kirkkokatu campus is located in Espoon keskus, near Turunväylä You can easily reach the campus by public transport from Espoo city centre, continuing by foot from the train station or a bus stop near the campus. We recommend using public transport, as the campus has a limited number of parking spaces.
If you arrive by car, the parking spaces are behind the building. The parking area of the Kirkkokatu 16 A section has 2H parking spaces requiring parking discs and two electric car charging points reserved for visitors. The charging points can be found in the Virta application (virta.global.fi). There are pocket parking spaces along Kirkkokatu requiring 2H parking discs. If your visit lasts for more than two hours on a weekday between 7:00 and 16:00, you will need a visitor parking pass from the caretaker. Some parking spaces in the area have been reserved for students.
Entrance to Kirkkokatu 16 is from the main entrances of the A and B stairs, which are located on Kirkkokatu. You can easily find the main entrance to Kirkkokatu 16 A in the vicinity of the outdoor artwork ANIMO and the main entrance to section B on Kirkkokatu near the bus stop.
Accessibility
The entrances and interiors of the Kirkkokatu campus are wheelchair accessible. The caretakers can guide visitors to the lifts and the assist in their operation.
There are a few handicap parking spaces near the entrances.
Back to top
---