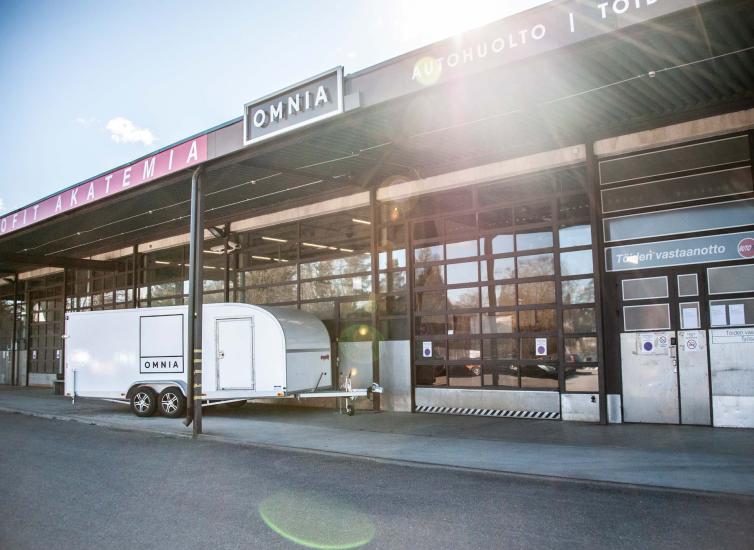 Service counseling and guidance related to studying
Contact information
Visiting address:
Martinsillantie 10, 02270 Espoo
Postal address:
P.O. Box 27701, 02070 CITY OF ESPOO
Premises coordinator
In case of qustions related to the premises, contact the premises coordinator.
Campus services
At the Martinsillantie office, Omnia's training repair shop and Auto repair shop Autoasi Akatemia operate, where the future professionals of the vehicle industry are trained.
Contact information of campus services (in Finnish)
Description of the campus
At the Suomenoja campus in Espoo, you can study to become an automotive professional. In addition to the abundant automotive training offering, the learning environments in Suomenoja include Omnia's teaching garage, a body repair shop and the Autofit service garage. In these, automotive students also do customer work.   
Students at the Suomenoja campus can dine at the student restaurant Parkkis.
Teaching and training at the campus
Teaching and training at the campus

Further Vocational Qualification in the Motor Vehicles Sector
SportOmnia: Motorsport career
Getting there
The Suomenoja campus is well connected by public transport and by car. Parking discs are required for all parking at the campus. You can park for four hours with a parking disc.
Accessibility
The Suomenoja campus is not fully wheelchair accessible. There is wheelchair access to the campus through the workrooms. There are stairs at the campus.
Back to top
---