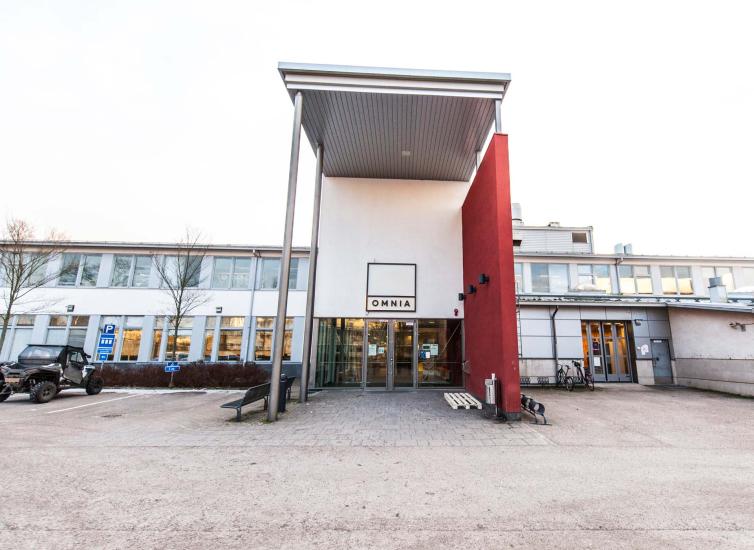 Service counseling and guidance related to studying
InfoOmnia and customer service serve all Omnia's students and those interested in studying at Omnia.
Contact information
Visiting address:
Upseerinkatu 11, 02600 Espoo
Postal address:
P.O. Box 60701, 02070 CITY OF ESPOO
Premises coordinator
In case of questions related to the premises, contact the premises coordinator Heikki Alakiikonen.
Description of the campus
The Leppävaara campus mainly offers vocational education and training activities.   
In Leppävaara, vocational students are served by guidance counsellors, special support counsellors and a library. In addition, the campus has student welfare services for students of basic vocational education and training. Students can dine at the student restaurant Timantti.
Teaching and training at the campus

Vocational Qualification in Mechanical Engineering and Production Technology
Vocational Qualification in Business
Vocational Qualification in Electrical Engineering and Automation Technology
Vocational Qualification in Construction
Vocational Qualification in Technical Design
Vocational Qualification in Information and Communications Technology
Vocational Qualification in Safety and Security​
Card and pass training
Adult Education Centre's language, arts, expression and physical education courses
Getting there
The campus is located in Leppävaara, Espoo, with good transport connections. The campus is a short walk from the Leppävaara train station.  
You can leave your car in the Omnia parking area.
Note! Parking passes are required in the Omnia parking areas Mon–Fri at 7:00–16:00. Visitor parking passes can be requested from the caretakers.
Accessibility
The campus is wheelchair accessible. Access is through the main door, which has a handicap parking space in front. There is also a lift at the campus.
Back to top
---