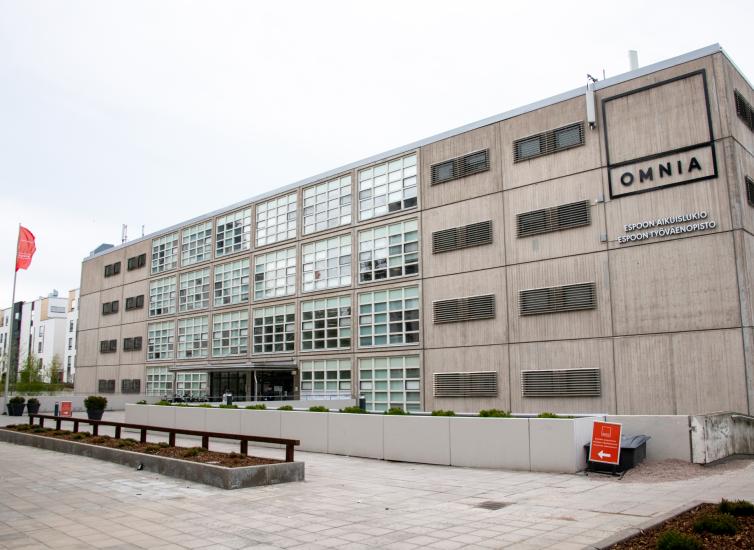 InfoOmnia and customer service
InfoOmnia and customer service serve all Omnia's students and those interested in studying at Omnia.
Campus contact information
Visiting address:
Itätuulenpiha 1, 02100 Espoo
Postal address:
P.O. Box 7235, 02070 CITY OF ESPOO
Premises coordinator
In case of qustions related to the premises, contact the premises coordinator.
Description of the campus
The Tapiola campus houses Omnia functions including the Espoo Upper Secondary School for Adults, Espoo Adult Education Centre and basic education for adults. All Tapiola students, customers and staff are served by the student restaurant and café Pääty. 
For students, the Itätuulenpiha location offers newly renovated classrooms and study spaces, student welfare services and a student affairs office.
Teaching and training at the campus

Espoo Upper Secondary School for Adults
Basic Adult Education
Adult Education Center's language, physical education, dance, information technology, visual arts, crafts, music and immigrant courses, as well as social and home and gardening courses
Lectures of Adult Education Center's Open University ja University for the Aging
Adult Education Center's basic art education
Getting there
Tapiola is most easily accessible by bus or metro. There are no free parking spaces for students at the campus. Read more on how to get to the area on Tapiola Park-site (tapiolankeskus.fi) in Finnish.
Accessibility
The facilities of Itätuulenpiha and the entrance on the street level are wheelchair accessible. There is a small threshold at the entrance to the parking garage.
Back to top
---