Jenna Hallikainen decided to give entrepreneurship a try, as she has always wanted to be the boss of her own life. Before starting her business, Jenna sought a lot of information about entrepreneurship. Jenna customises clothes, and when people started to show interest in her products, she got the courage to become an entrepreneur.
"I started to believe that I could really be successful in what I do. That's how it all started," Jenna says.
Jenna encourages people to try entrepreneurship, despite the nerves
Jenna heard about the NY entrepreneurship from her teacher. Entrepreneurial education seemed to be a good way to spread her wings, and Y8 NY was founded as a result.
"I saw it as a good experience. Even if I wouldn't make it, at least I'd learn something new," says Jenna with a smile.
Entrepreneurship can be intimidating, but Jenna encourages people to give it a try.
"I have to admit that I'm a little anxious about being an entrepreneur. But then again, we only live once, so why not? Sometimes you can fail, but that's okay. If you fall down, you get up," Jenna says.
As an entrepreneur, Jenna has already gone through the wringer. She took part in Junior Achievement Finland's Uskalla Yrittää competition. She moved on from the regional semi-final of Uusimaa to the final, including the 50 best NY companies in Finland.
At the end of April, Jenna presented her company among the 50 NY entrepreneurs in the Mall of Tripla. Most of the other companies are run by more than one person, so the fact that Jenna made it to the final as a sole entrepreneur was a great achievement.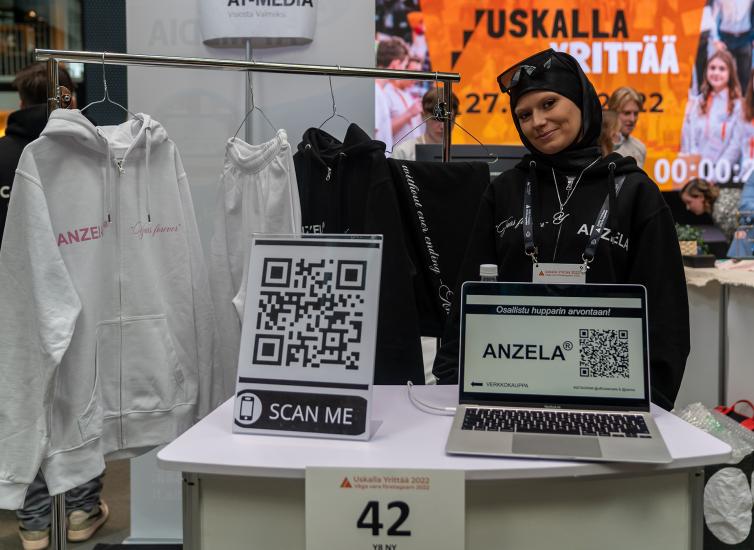 Omnia and EnterpriseEspoo help in getting started
When Jenna was preparing for the final, she got to spar her presentation for the final at EnterpriseEspoo. EnterpriseEspoo and Omnia carry on extensive cooperation and are both operators in the business services network of Business Espoo.
Business Espoo supports the operations of entrepreneurs and companies operating in Espoo and the surrounding municipalities, starting from developing the business idea to internationalisation.
As part of Business Espoo, Omnia and EnterpriseEspoo are often the go-to parties when seeking help in entrepreneurial matters. Omnia's entrepreneurial education programmes provide a good basis for entrepreneurship and EnterpriseEspoo helps to get started.
The entrepreneurial education programme of Junior Achievement Finland is a learning experience that goes through the entire life cycle of a company. During the academic year, a company is set up and also run down. The accounts are kept throughout the year.
Many NY participants continue as entrepreneurs
Hallikainen says that the Y8 NY will continue under the name Anzela.
Virpi Utriainen, CEO of EnterpriseEspoo, says that studies show that the NY operations are profitable. It is a good, practical and long-lasting learning experience for young people and it truly promotes entrepreneurship.
"13% of young people who have participated in the JA Company Program as part of their upper secondary education or basic education start a business after the learning experience," says Virpi.
Virpi, who previously worked as the CEO of Junior Achievement Finland, started working at EnterpriseEspoo in March. She hopes that more and more young people will become clients of EnterpriseEspoo and she wants to cooperate more closely with Omnia.
Entrepreneurship turned into study credits
Entrepreneurship lecturer Jonna Haltia says that Jenna gained dozens of competence points from her entrepreneurial operations for both her vocational and common unit studies. A project work study package was included in Jenna's studies for taking part in the Uskalla Yrittää competition final.
"The paths of entrepreneurship must be made visible in studies. It is important that the vocational teacher is also involved in this", Jonna says.
As for EnterpriseEspoo, it welcomes all those who have completed entrepreneurial studies with open arms. EnterpriseEspoo's business advisors help aspiring entrepreneurs of all ages at A Grid in Otaniemi.
Back to top
---